Raleigh, NC, June 6, 2022 – Phoenix Commercial Properties, LLC is pleased to announce the first signed lease for the Eastfield Crossing Business Park in Selma, North Carolina. The 135,000 square-foot spec building at 101 E. Providence Blvd was leased to Do Good Foods,  a revolutionary climate forward company that upcycles surplus grocery store food into nutrient-dense animal feed. Do Good Foods said they plan on investing more than $100 million into the new facility. 
Once the full buildout is complete, the facility will employ approximately 100 workers in job roles that average more than $60,000 annually.   
The building, to be occupied by Do Good Foods, is the first in the 170-acre industrial business park located in Selma, NC, at the junction of I-95 and US Hwy 70 (future I-42). The Park targets world-class companies and high-end industry users for Research and Development, warehouse distribution, manufacturing, life sciences, and corporate headquarters users.
The building features sophisticated amenities such as 36' clear height tilt-up concrete construction and smart-city cutting-edge technology offering an integrated, intelligent technology infrastructure. Future buildings in the business park will be based on client needs and can be as large as 500K to nearly 1 million square feet. 
John Powell, Thomas Goodwin, and Mike Wilen of Phoenix Commercial represented the Landlord in the 20-year lease. CBRE represented the tenant. 
To learn more about the Eastfield Business Park and for additional information about lease or build-to-suit options, contact John Powell (jpowell@phoenixcommercialnc.com), Thomas Goodwin (thomas@phoenixcommercialnc.com), or Mike Wilen (mwilen@phoenixcommercialnc.com), at 919.896.6497.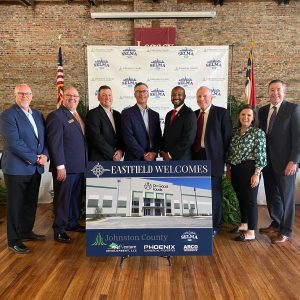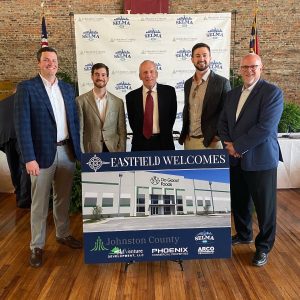 About Phoenix Commercial Properties: Phoenix Commercial Properties, located in Raleigh, North Carolina, provides comprehensive and integrated real estate solutions to businesses, investors, and owners through proactive and creative transactional management. Our well-educated, versatile commercial practitioners pledge to be true to our founding principles of honesty, integrity, and an unwavering work ethic. We treat each project we participate in as our highest priority, from Tenant, Landlord, and buyer representation to building sales and site acquisition.