The "war for talent" has been blazing for many years!  Prior to my commercial real estate career, I consulted globally in the Talent Management arena. As far back as I can recall, we crafted solutions for our clients to improve their ability to attract, retain, develop and transition talent in a way that improved employee engagement and enhanced their brand as an employer to compete for talent!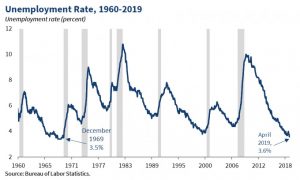 With the National Unemployment Rate currently at its lowest levels since December, 1969, employers continue to compete and look for ways to differentiate themselves in order to lure and keep the best and the brightest at their organizations.
A key to achieving this goal is for employers to change their perspective and view the organization from the employee's point of view! Easy right? Not so much.
Every aspect as well as how the employee internalizes their entire journey –  the Employee Experience – must be evaluated without bias. This should include:
The organization's reputation in the marketplace,
Processes such as recruitment, onboarding, training and developing, preparation for and advancement within the organization as well as exit of the organization,
Tools for success such as computer hardware and other equipment to perform the job as well as technology infrastructure and access,
Physical environment including geographical location, type of building, office look and feel, workspace designs, and green initiatives,
Culture including other employees' engagement levels, connections to the Mission and Vision and how much leadership and other employees walk the talk,
Friendships in the organization.
In a robust employment market, employees can be choosy.  Employers of choice will be those that build exceptional Employee Experiences by aligning their brands, cultures and processes. They will certainly have a strategic advantage in the war for talent!
Kim Mills is a commercial real estate broker with Phoenix Commercial Properties. She leverages her 25 years of talent management expertise to benefit business leaders and owners in improving employee engagement, driving productivity and overall enhancing profitability by securing the best workplace for their businesses. Kim holds certifications as a Professional in Human Resources from the HR Certification Institute (HRCI) and a Certified Professional from the Society of Human Resource Management (SHRM).