Have you ever wondered when the best time to buy, sell or invest in real estate is? As a real estate advisor, this is a question we field from our clients often. Having a clear understanding of the real estate market cycle is a vital and fundamental part of helping our clients make informed and sound investment decisions.
If you are pondering buying, selling, or investing in commercial real estate, knowing when and how to enter and exit the market is something that can potentially have a significant impact on your bottom line. In this article, I will explain the four phases of the market cycle to help you identify where we are and whether or not it is good for you to make your move.
Four phases make up the Real Estate Market Cycle:
Dr. Glenn Mueller's market cycle analysis does a fantastic job outlining and explaining the various market cycles and how each phase in the cycle impacts a particular market.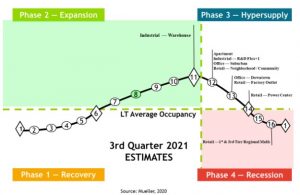 Phase 1:
The Recovery Phase – In this first phase, occupancy levels are typically low, with rental rates staying the same or declining. There is minimal demand for new space, and therefore construction activity is slim as there tends to be an oversupply of products in the marketplace.
Phase 2:
The Expansion Phase – At stage two, we begin to see increased activity in the market where demand is positive. Job growth and GDP are on the rise with increased activity across asset classes. Occupancy levels increase, and the previous stagnant rental rates begin to grow. At this phase, we also start to see construction levels surge to meet the rise in demand.
Phase 3:
The Hyper Supply Phase – This is where we begin to see a tipping point where supply outpaces demand. The oversupply of products leads to rising vacancy and, therefore, a slowdown in rent growth.
Phase 4:
The Recession Phase – represents a weakening in the market. Supply dramatically exceeds demand, with property owners and landlords facing high vacancy and reduced rental rates.
It is also vital to understand that markets do not always follow through each cycle. Movements through the market cycles can move forward and backward in their position pending economic factors, including interest rates, government policy, the overall economy, and demographics of a local market.
The great news is that no matter where we are in the market cycle, opportunities exist for investors and developers to take advantage of the upside of the market cycle. Aligning with a real estate expert who can help you make informed decisions and tailor a game plan specific to your immediate needs and long-term goals can be vital in investing successfully across each of these cycles.
Thomas Goodman is a commercial real estate advisor and Vice President at Phoenix Commercial Properties. He specializes in helping buyers, tenants, landlords, and sellers in all asset classes of commercial real estate with a focus on the office and industrial sectors.